If you've been working for a while or have had professional experiences, you are probably familiar with the Instant Messaging application for Businesses called Slack. With 10+ Million daily active users, Slack is an integral part of our business life and it comes as no surprise that some users decided to harvest this massive user base and build niche-specific communities around it.
Slack Communities are an integral part of my learning process. Thanks to these communities, I get the opportunity to pick the brains of experienced, dedicated and selfless Marketing veterans on any subject I have a question about and collect pertinent point of views and answers that positively affect my company's bottom-line. In this article, I want to share with you where on Slack I am hanging out so you too can reap the benefits of picking these great minds.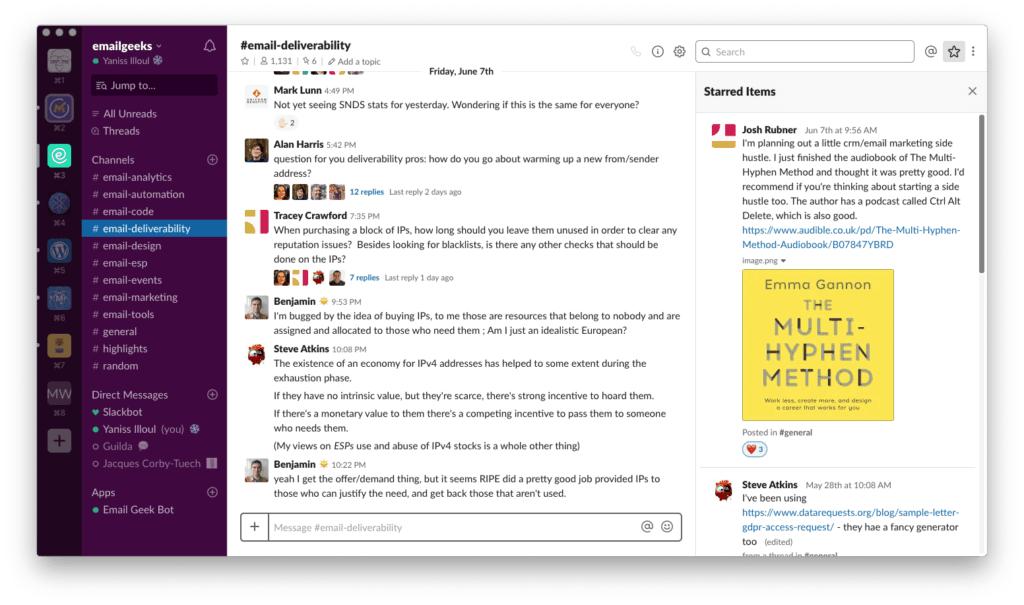 Email Marketing Slack Community
Email Geeks is my go-to community for everything that is about Email Marketing. Its community is just massive with more than 5 000 members and we're talking big names amongst the Email Marketing community. You will find people working for all of the major brands whether it's ESPs, consultants, or people responsible for the Email Marketing strategy of the biggest brands such as Uber, Nike, Airbnb and a lot more.
The conversations are split into Slack channels that are dedicated to specific aspects of the job. Whether your interest lies more in Email Deliverability, Email Design, Email Marketing Strategy or Automation Workflows, there is a Slack Channel in this community full of knowledgeable people willing to help you out.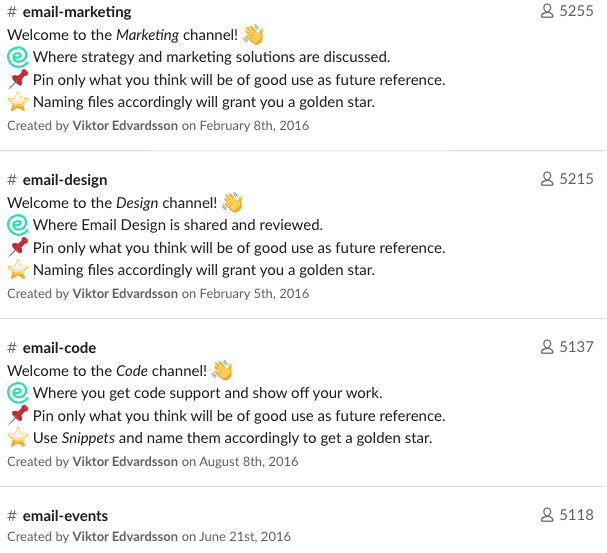 There is also an Events channel and some local channels so you can talk with other experts that work in the same area as you do. Granted, it's mostly US-based channels but nothing forbids you from creating your own local channel and prompt people to join if they're from around you!
Finally, a lot of the important companies such as Sendgrid, Klaviyo, 250ok, Marketo, MailChimp, etc. have officially invested the space through the use of dedicated Slack channels. This gives you a direct way of communication in case you want to have your case looked over by someone directly from the company or if you're looking to know if their services could suit the needs you're trying to find a solution for. Definitely a worthwhile feature of this Slack community.
The registration process is pretty straightforward. Head over to their website and fill out their form. This form is mainly to make sure that members have somewhat of a relationship with Email Marketing and genuinely want to be a part of this community. They even have a Code of Conduct that you can check out.
All and all, Email Geeks is one of my favorite places to lurk and participate in the whole list I'm presenting to you right now. Even though it's only about Email Marketing, I find myself really interested in this field and therefore fascinated by the amount of knowledge that is being shared among this particular community, hence why it is getting my recommendation.
Broad Marketing Slack Community
Online Geniuses is my go-to Slack Community for everything that is related to broader aspects of Digital Marketing. Whether it is Affiliate Marketing, Marketing Automation, Ecommerce, PPC or SEO, you will find a Slack channel tailored for your area of interest filled with members that exchange there on a daily basis.
Online Geniuses is probably the biggest Marketing-related Slack community that exists. With more than 18 000 members and hundreds of active daily, Online Geniuses is a great place to keep an eye of the industry's trends, draw insights from and connect with professionals.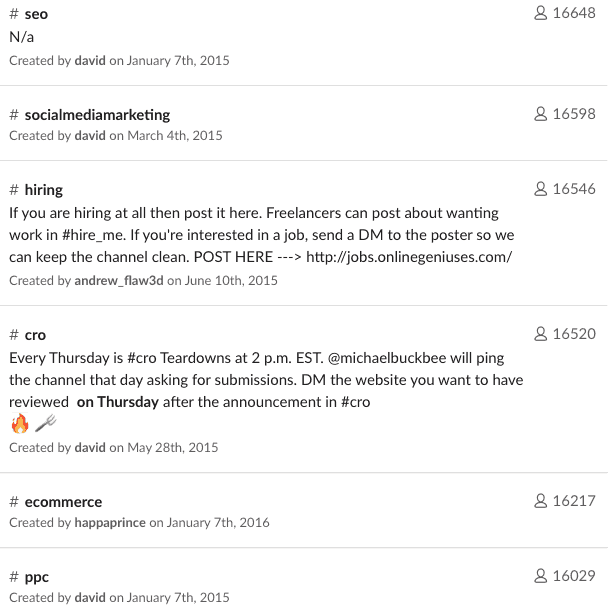 In the same vein as Email Geeks, Online Geniuses boasts a pretty amount of local channel although quite inactive, at least for Berlin's one. Something OG do differently though is the hosting of AMAs, or Ask Me Anything sessions. If you're not familiar with the concept, the idea is to invite a professional to answer questions from the public. In the case of OG's Slack Channel, every once in a while, a Marketing professional is invited to answer the members' question in their #ama channel. Some big names are popping there pretty often so it is definitely an interesting kind of events and will for sure help you along the way in your career.
To become a member, you also have to fill out a form and expect an answer within a week or two.
I've definitely used the knowledge of OG's members in the past and definitely recommend you to join over there as well.
Link Exchange and Guestposts Slack Community
If you are looking for guestposts and link building opportunities on Slack, do not look further than the #Backlinks community. This community boasts 1600 members and plenty enough new members on a weekly basis that bring fresh websites and new occasions to either write some articles on their website or get fresh content to your platform.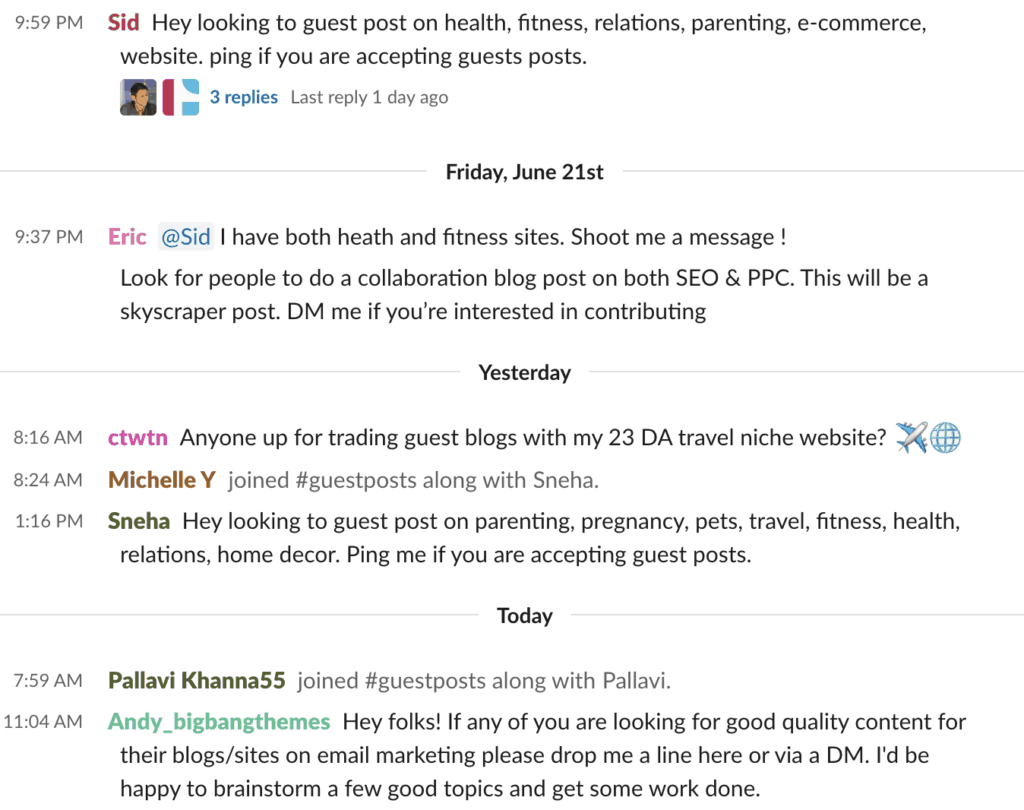 As always, #Backlinks is a free community that you can join by filling the form available on their website.
Tools and Region Specific Slack Communities
Depending on which tools you are using, there might be a dedicated Slack community around it so don't hesitate to look for it.
As an avid user of Mautic for instance, there is currently a 6 000+ members Slack workspace that is completely dedicated to the usage of this tool. WordPress also has a dedicated Slack workspace so don't hesitate to look out if your favorite software also hosts their own Slack workspace where users can exchange and collaborate.
Finally, there is also local Slack communities. In Berlin, for example, the Startup Berlin Group boasts a 6 000+ members group with extremely interesting channels such as an #events one that is tasked with keeping the members up to date with the latest conferences, meetups, and talks in the area. So please look for your local communities. 🙂
Conclusion
Overall, I do feel like my involvement among this kind of communities is what made me into the Marketer that I am today. It kind of feels like I am giving away one of the ingredients of my success by writing this article but I believe in the greater good and how raising the bar in the field and crowdsourcing knowledge will only result in better opportunities and results for everybody.
I hope you will benefit from these communities. Also, remember that it is not only about receiving but also about giving so don't be shy and try to get involved and answer other people's questions if you feel that your participation can help someone else.