Being a great Marketer means keeping oneself on top of the news, trends and conversations. For this, Reddit and its subreddits is a fantastic tool composed of many great communities, the Digital Marketing community being one of them.
In this article, I want to share some of the subreddits I'm reading on a daily basis that I think are also worth your time. From industry professionals sharing case studies, insights and providing advice to beginners freshly graduated, Reddit is a great place to give and to get. Ready? Let's get started.
First, what is Reddit?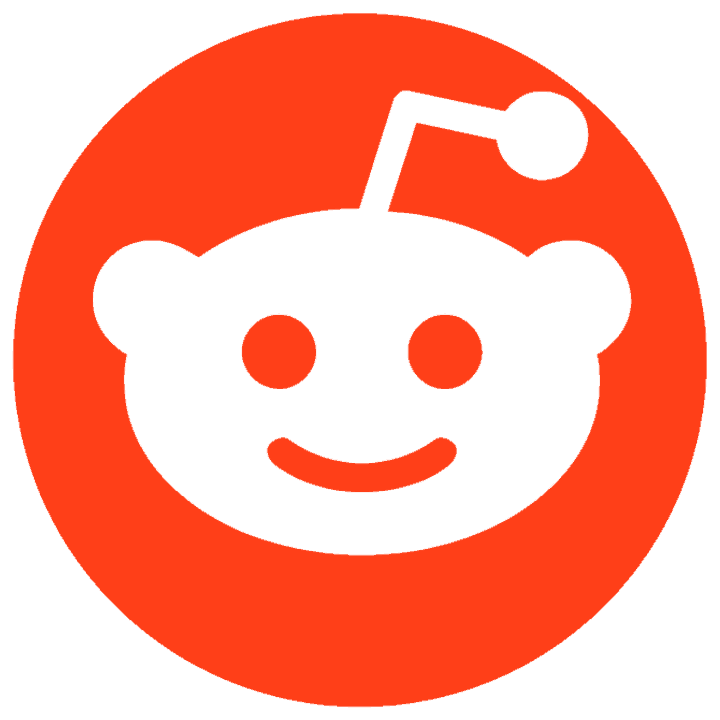 Do you remember the "old age" of the internet where information was shared on public or private forums? Every niche and topic had multiple forums dedicated to these communities where you had to sign up, choose an avatar, fill up a description, introduce yourself through the proper channels and eventually start interacting with the community.
Well, the best way I found to explain Reddit is this. Imagine Reddit being only one BIG forum where every community you can think of hangs out. You sign up once and you get extensive access to all of the communities that exist in Reddit.
As of July 2018, Reddit referenced 138,000 active communities. That is 138 thousand forums where people are dedicated to one specific subject and sharing information around it. With 330M+ users, Reddit is a force to be reckoned with and an incredible opportunity both for expanding your brand but also for sharing and learning…
If you're new to Reddit, the way it works is that you want to find a subreddit, or a community, related to your topics of interests. Once you find an active community, you can have a look at the conversations or threads being held, read the rules of this community and eventually subscribe to it in order to have easy access to them.
When you find an interesting conversation or comment, you can choose to upvote said conversation or comment. At the opposite end of this reflection is the downvote, which people use against comments or threads that do not add value to a conversation or a community.
This is pretty much the gist of it. You can very much just spend your time watching threads without participating. This is what I am personally doing in most of the subreddits I'm subscribed to…
My Favorite: /r/juststart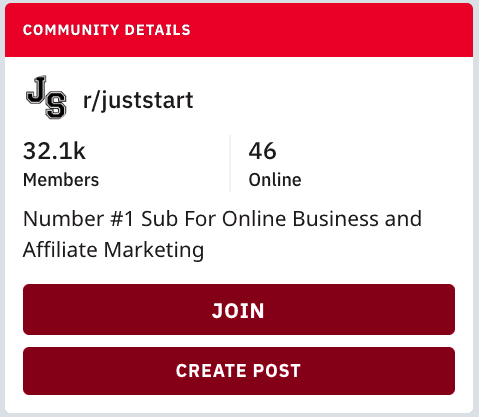 r/juststart is such a strong and good community. This subreddit motivates tens of people every month to start their own venture. Originally focused and created by successful Affiliate Marketers, this subreddit encompasses now every kind of online venture and prides itself in giving a reason to people passing by to "just start".
In this subreddit, you will find numerous people holding themselves accountable for their projects by writing case studies on their progress every month. The community will highlight what they spent the last month working on to make their projects work, the roadblocks they encountered and let other contributors chime in and bring their expertise or ask questions about each other's processes.
r/juststart is a very inspiring community with a strong sense of sharing insights. It is by far my favorite subreddit among the list I am presenting you today. It boasts 32,000 subscribers and is definitely a good place to start.
r/marketing
r/marketing is less niche and looks more popular from the outside than the subreddit I mentioned above. With almost 200k subscribers, this community is more about discussing news and conversing around the wide topic that is the Marketing industry.
From students and professionals asking for career advice to question about a specific aspect of Marketing, this subreddit is about a lot of things and good content can sometimes be hard to find among this pool of constant new threads. Nonetheless, some people there provide real-life advice that can definitely reveal itself essential for ourselves.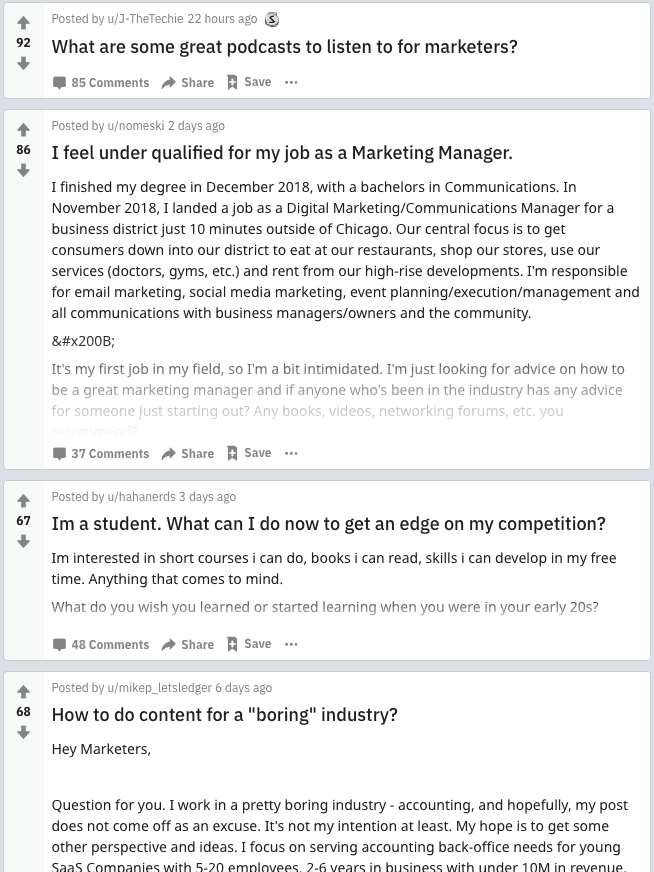 r/marketing made me discover so many things. From curious podcasts to certifications I could make my new interns go through to ideas about how to use Pinterest ads or how Influencer Marketing works for some and less for others, there is so much knowledge that is being shared among those ranks that I have to recommend you sip through it and see if there are some thoughts that could interest you as well.
r/bigSEO
r/bigSEO is, you guessed it, about SEO. Self-described as "A community for professional Agency, In-House, and self-employed SEOs looking to discuss strategy, share ideas, case studies, and learn.", bigSEO is a lot about sharing tools and strategies to analyze websites and eventually rank better. A lot of the conversations tend to repeat themselves and be about how to organize the transition to a new domain or how to do link building but once in a while, you will find the right thread with the right participants that will provide you with the knowledge you haven't heard or discussed before.
r/bigSEO is also a great place to start your Reddit journey into other parts of the Digital Marketing topic considering its moderators are also affiliated with other subreddits that touch to things like r/ppc (Pay Per Click), r/ecommerce, r/analytics and others.
Overall, bigSEO is a well-moderated space that does its best to encourage great minds to share their expertise and new members to share their struggles.
r/entrepreneur
r/entrepreneur is case-study land. With 500k+ subscribers and thousands of active users, this subreddit is full of inspiring entrepreneurs sharing their successes, their failures and helping each other overcome the numerous roadblocks on their entrepreneurial journey.
Conversations in this specific space are highly curated and moderated. You will need to be an active member of the conversation before being able to post but that only encourages people to comment on other people's issues and ideas and is overall confirmation of the good health of the community.
I highly recommend any aspiring entrepreneur to subscribe to this subreddit and read from the experiences of other contributors. You will learn a ton of concepts and might be able to help others in their adventure.
Conclusion
Reddit is a fantastic social network that is easy to miss out on. Often mislabeled by people that do not understand its audience, Reddit got quite a bad rap but I can assure you than having an account in there and being engaged with the right communities can be a truly enriching experience and a weapon in your arsenal as a Marketer.
So sign up:)! It's free, it will eat up a lot of your time but in my opinion, it's worth it.