On the 10th of May 2018, I decided to see if I could grow an audience on one of the most visited social media of this time : Instagram. I am a huge fan of this platform and have been cheering every feature their team have been adding since the beginning. Instagram is becoming -if not already- what I see as the best Social Media Network for Marketers. As a user, I will always cherish Twitter above anything but Instagram is home to some really interesting features that can be leveraged and produce amazing results for who manages to build a decently sized audience on it.
Today, 13th of April 2019, after four months of hiatus, I decided to call this project off and move on. In December 2018, I just lost interest in this project and slowly watched the account lose its engagement and life…

Today, I also want to write about this project, share my wins and failures, try to figure what worked well, what I wish I did more of and what did not work at all.
In the event that I ever try to breathe some life back into this project, I will not share any details that would allow the identification of the account. The only things I'm willing to share regarding the niche of the account is that it was in the photography niche.
The goal with this account was to build an audience from scratch and be an authority account in the niche I set myself up in. After having built the audience, I had in mind the creation of a website that would contain a lot of informational content, interviews and reviews articles. If you know anything about the niche photography, there's a lot of competition but thankfully, I was in a sub-niche that I thought and still think has a good potential for growth.
The type of account I set on creating was "User Generated". Meaning all of the content posted on this account would be reposts from the feed of other Instagram users. While it can seem unethical if you're not used to Instagram, this kind of accounts is all the rage on the platform. This type of account is called "Feature Account" and basically "gives exposure" to underrated accounts in exchange for free content.
While you may think the exchange was unfair, a good feature account with an engaged audience can truly bring some artists to the spotlight. I've seen some photographers going from 500 to 20k followers after having managed to be featured by quite a few influential accounts.
Discoverability Techniques
The first week was really about one thing: Manually contacting thirty to forty photographers and ask them if I could repost their content. to this date, I haven't received any negative answers. With this roster of forty accounts, I decided to schedule one to two posts a day for the next month.
To help discovery, my strategy was to always tag the artists I was featuring, both in my Story and in the post. A lot of them ended up sharing my story/post to thank me, exposing my account to all of their followers and helping discoverability.
For the hashtags, I simply used displaypurposes.com . This website automatically suggests a number of hashtags related to the main topics of your niche. The good thing about this tool is that it mixes up very popular hashtags with lesser-used ones to maximize discoverability.

Finally, I used a completely free bot to automatically like up to a thousand posts of people using the hashtags I was targeting. I am planning on releasing a full tutorial on how to use one of the multiple Python coded robots that automatically likes posts based on hashtags used. This did not cost me a penny to use and I can attribute a big chunk of my growth to this specific tool.
These three plans of attack combined helped drive a crazy amount of genuine interaction on my account every single day of the month while I was posting consistently.
Following this technique and by posting every single day both in my story and in my feed, I was able to maintain a growth of around 500 new followers per month and sustained this growth for the seven months I was active, finally reaching my peak at 3352 followers, averaging 200+ viewers every days in my Stories and 240 likes per publication.
The Tools I was Using
To this day, 4865 posts have been tagged with the account-specific hashtag and I posted 211 times. To manage this media library and schedule everything, I was using the tool Later for Instagram. Their Free Plan allows to post up to 30 posts a month and offers you a Media Library where you can upload the files you want to post along with a semi-automated scheduler.
The semi-automated part comes from the fact that I could not find to this day a software that would upload the posts for me. The way Later is doing it is by sending you a Push Notification from their Android/iOS Application that puts the content of the caption in your clipboard and "shares" the image on your Instagram feed the way you can share an image from your gallery, allowing you to paste the caption in Instagram and tag people in the picture/set a location.
All and all, this is not Later being a bad product but Instagram being very restrictive regarding their API features.
There are other tools that do this kind of things such as Zoho Social, Buffer and Hootsuite. I haven't tried any of them to be completely honest so I can't tell you if they're better or less than Later.
Secondly, I used Python Instabot to carry my Likes Automation. It's a free and open-source project hosted on Github at this address: https://github.com/instagrambot/instabot
It did have problems from time to time but nothing that a reboot or some time spent in the code would not solve. I would suggest having a bit of Python knowledge to make this work the way you want to but if you're interested, I can also write an extensive guide on how to have this up and running without any coding knowledge.
Finally, after the relaunch, I was on the lookout for a "Repost" Android Application and tested numerous one but to this day I could not find one that was really above the others…
Regarding automation, I want to point out that the only task I was giving to a robot was the Like feature. I'm convinced having a robot comment on other people's picture is considered supper spammy and does not look good. I also turned off the Follow/Unfollow feature as I think people that Follow back are not quality followers. My goal here was to only notify people of the existence of my account by simply liking their pictures. It was enough for around 15% of them to check my profile out and for around one to two percents to follow me without me following them.
It might not seem like much but a 1000 likes generating 15-20 genuine followers every day eventually adds up. Apart from easy to count followers, all of this activity led to my account being seen by hundreds of people that were not following me and attracted a consistent amount of impressions and likes every day that in turn helped my posts reach the Explore page.
The Website
After having reached 2000 followers, I decided it was a good time to finally invest in some presence out of Instagram. I created a website and decided to interview the people I was featuring. In retrospect, the results of the first interview being published is probably what pushed me away from this project as it revealed itself very disappointing.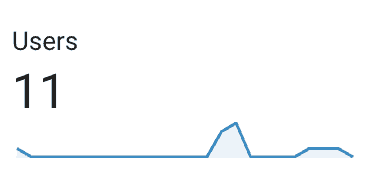 So this was launch day. Out of the 2k+ followers I had and the 300+ that saw the story launching the website, only eleven of them converted into web traffic.
To be completely honest, I don't know if it was any good or bad but I expected way more. The takeaway for me here is that Instagram's users are pretty self-contained in their browsing habits and it would have taken me a lot of effort to drive them away from the platform and onto my website.
The Takeaways
In retrospect, one of the main thing I realized working on this project is how important consistency was. The fact that I was posting every day, liking a thousand pictures every day, posting stories every day and being in contact with artists is probably what drove a steady growth to this project.
I kind of regret not sticking with it and particularly with the website. I believe this niche still has a lot of potential but the relaunch I tried to lead a few weeks ago did not show me the same potential as it did back then and I am therefore even more reluctant in trying something new with it once again.
I realize how contradictory it might sounds from me to say "Consistency is key" and not having given the website a proper chance to grow. I honestly should have stuck with it and I probably would have been proud of this project.
This is not the end of me and Instagram though. I believe the time required to invest for me daily is also part of what made me lose interest in this account but as an Automation enthusiast, I'm always on the lookout for new tools and workflows that could remove this friction. I've already pinned down new Python robots and libraries that could remove this publishing constraint and am looking forward to share my evolved processes once I decide to come back into the Social Media Marketing environment.